JWEI is qualified for UL8139 WDTP
Sep 15, 2020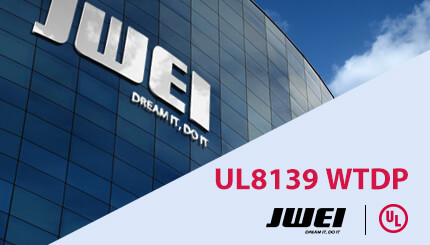 JWEI becomes one of a few corporations that has qualified for UL8139 WDTP (Witness Test Data Program), officially authorized by UL, making a way for customers into the North American market.

With the rapid development in the vaping industry, publish health has become a concern of all the nations and the international community, which in turn brings the industry under stronger regulatory control. USA thus released Premarket Tobacco Application (PMTA, for short). As the most complete safety standards in the industry till now, UL8139 which is recognized by the American National Standards Institute (ANSI) and the Standards Council of Canada (SCC) plays an important role in the review of PMTA. Since 2016, JWEI has been working closely with UL on the formulation and promotion of standards and the set-up of WTDP, with the aims to provide customers with more comprehensive and faster service and to provide security for our product consumers.

JWEI, as an accredited corporation by UL who can carry out the test of approval, can help our OEM/ODM/OBM customers shorten the process of acquiring UL8139 certification with the lab, equipment, personnel and procedures that are equivalent to those used in UL labs. And in doing so, we are offering a more perfect one-stop ODM/OEM solution covering R&D, manufacturing, marketing and service, creating more benefits for our customers.