UL Officially Certified Joyetech The World's First UL8139 E-Cigarette Certificate
Dec 21, 2018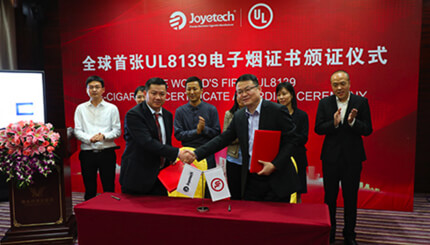 December 21, 2018 in Shenzhen China, the cradle of e-cigarettes, the world's FIRST UL8139 e-cigarette certificate awarding ceremony was successfully held by Joyetech and UL. This is a big step for Joyetech, even the whole industry towards the compliance of e-cigarette products.

UL, a leading global safety science company, announced that Joyetech, the global leading manufacturer of electronic cigarettes and vaporizers, is the FIRST organization to certify to UL 8139, a safety Standard that evaluates the electrical and battery systems of vaping devices and electronic cigarettes, also known as e-cigarettes. The certification was issued to Joyetech's vapor pen, eGo AIO.

The UL8139 was recognized by the American National Standards Institute (ANSI) and the Standards Council of Canada (SCC), covering the electrical, heating, battery and charging systems of these products. The development of UL 8139 also addresses specific fire safety concerns raised by North American fire officials. 'As the world's leading global safety expert, UL is now working with the world's leading e-cigarette manufacturer - Joyetech, we hope our cooperation can bring the best products to the consumer' said by UL Sales Director in China Kevin Yu.

Joyetech and UL also achieved a strategic cooperation, meaning more UL certified products will be available soon.

Universally recognized as a global leader in battery safety testing, UL tests and certifies batteries and also contributes to the development of industry safety and performance standards. The UL 8139 Standard helps manufacturers address lithium-ion battery hazards for electronic cigarettes and vaping devices, which aligns to UL's public safety mission.